Surya Lifts Pvt. Ltd. Specialists in Lift Installation, Modernisation & Maintenance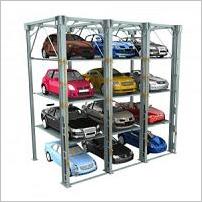 » Low ceiling design with advanced Hydraulic direct drive double stage cylinders for better lifting Performance
» Column can be shared between two machines. With our special design can save precious space to suit design of building.
» Modularized platform to save shipping, handling and installation cost.
» Optional 24V electrical locking release for customer safety
» Multiple locking positions give protection during both rise up and lower down
» Parachute valve in every cylinder provide extra hydraulic safety.
» Galvanized platform guarantee long lasting lifetime.
» Corrugated deck guarantees safety of driver and vehicle under any weather condition.

IR sensor automatically checking platform position and? lift usage situation. When car is parking under the raised platform, control will stop lift for possible lowering motion. Thanks to Bosch Rexroth parachute valve build in to cylinder system, full time full cycle protection is given at a real-time miner. Optional chain slack detection device automatically detect possible unbalance due to lack of service.

Hydraulic direct drive structure eliminates chain driving system and possible failure from traditional system. Thanks to the hydraulic direct drive and double stage cylinder used in to lift, by taking out moving parts like pulley and chain, you can enjoy a sample, low maintain requirement system. Double stage cylinders used in the hydraulic system request lower ceiling height while not sacrifice on performance and quality.

Dependent Parking Lift

Whether you're the owner of a public parking structure or just want to make the most out of your private garage, Surya has a selection of premium parking lifts to truly maximize your work space. We offer both two-post, four-post and Tilting Parking Lift configurations with the smallest footprints possible. As with every Surya product, safety and durability are our primary concern, so these rugged, compact parking lifts feature automatically engaging spring-actuated locks, plenty of hard-working muscle for busy garages and ergonomic operator controls for superior ease-of use.

Four Post Parking Lift

» Hydraulic driven, cable lifting system
» Four points automatic safety locks, manual release
» Maintenance free load bearing, assure the safety in any height
» Unchangeable width between runways
» Safety locks in all posts for added safety

Two Post Tilting Parking Lift

Its operation is similar to the elevator, low area coverage and high usage rate of space; By adopting intelligent radar control system, it can achieve steady operation, fast speed operation, and high security performance. By adopting PLC control, it can achieve simple and fast parking and releasing with high automatic functions in the whole process.

Two Post Parking Systems ECO8032

The equipment can make parking spaces doubled, easy to operate, economical and without special requirements for the ground. It is safe and reliable equipped with multiple safety protection devices, with high-quality steel and advanced metal spraying anti-corrosion treatment (aluminum spaying), the equipment can achieve anti-corrosion performance up to over 35 years.

Parking Lift ECO8030

The system is equipped with a single platform, allowing long-term parking on the upper levels and short-term parking on the lower one. For use of the upper platform remove the vehicle from the lower parking space. This system can also be retrofitted into existing buildings.